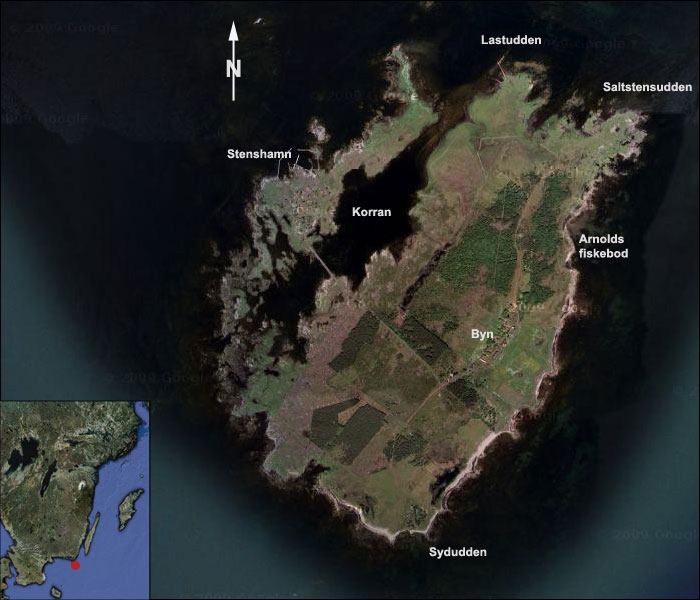 Together with my birding soul mates Jan Cronlund and Anders 'Ante' Eriksson I visited Utlängan for a reunion party and a 24 years celebration. Believe it or not, but on 3rd April 1985 we landed on Stenshamn/Utlängan and we stayed there for two months, counting the seabird migration daily at Lastudden and Sydudden. Hardcore birders or pure maniacs? I don't think there is a great difference, to be true. We kept on birding on Utlängan every year (spring and autumn) until 1989 and thereafter far from annually. It was just great to revive old memories on the beautiful island Utlängan and birding there again!
Highlights during our stay: White-billed Diver (1), Great Egret (1), Pomarine Skua (3), Kittiwake (1), European Bee-eater (1), Firecrest (1) and Serin (1). Also good numbers of migrating Red-throated Diver (319 on 2nd and 523 on 3rd) and Barnacle Goose (34 650 on 9th May!).
Location: Utlängan is one of the largest islands in the east Blekinge archipelago measuring 3 km in length and 1,5 km at its widest point. There is just one group of islands that lies further offshore, Utklippan situated 8 km SSW of Utlängan. It can be used as a reference point on clear days.
The island is flat and shows similarities to Ottenby on Öland. The lighthouse "Långe Jan" at Ottenby can be seen in the northeast on clear days. The nature of Utlängan is varied and interesting. A birder's first feeling of this fascinating island is that "anything can turn up". The long list of rarities seen throughout the years bears testimony to this.
Number of bird species: An incredible total of 306 species has been recorded up to 2009, more or less since 1985.
Visiting Utlängan: There are regular boat tours from Karlskrona and Yttre Park (close to Torhamn) on the mainland. The main problem is the accommodation, but one can book a little cottage on Utlängan by Roland Carlsson, who live on the island permanently. For further information please check the website Utlängan Stenshamns Intresseförening, unfortunately, only readable in Swedish.
Ferry: You will find everything about the ferry, schedule and prices on Affärsverkens website.
Most recent article published: Utlängan – ett eldorado för rariteter (Utlängan – a rarity hotspot) by Lars-Gunnar Lundquist, published in the Swedish magazine Roadrunner 1/2006.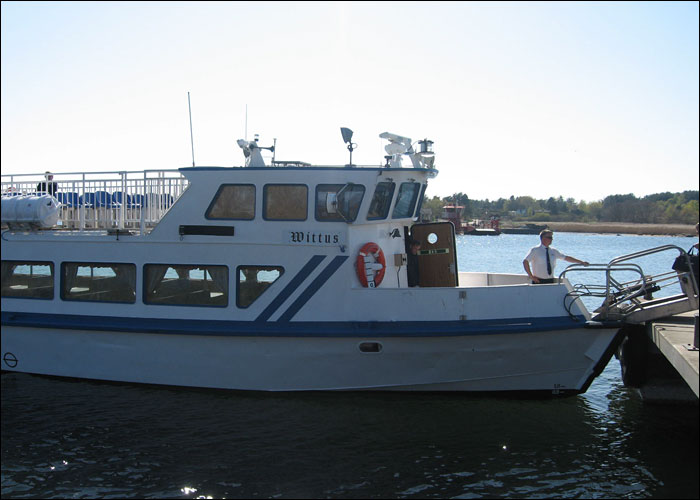 The steady high-speed ferry 'Wittus' at Yttre Park. One of the crew still worked on the boat and remembered us from our visits during the 90's. Nice!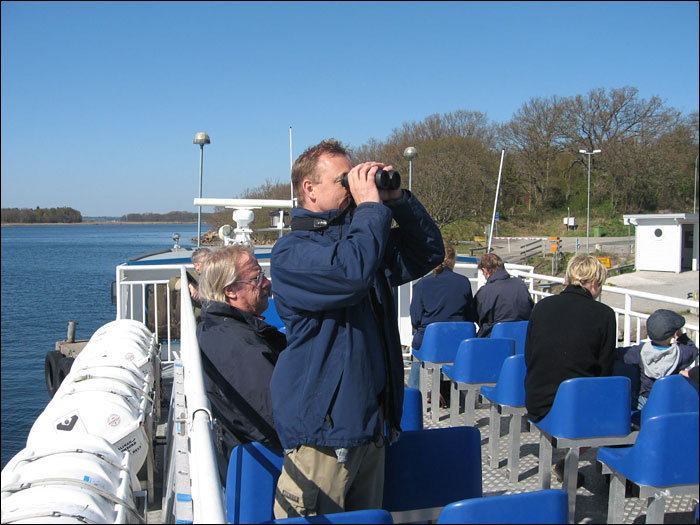 Ante and Janne on the ferry deck.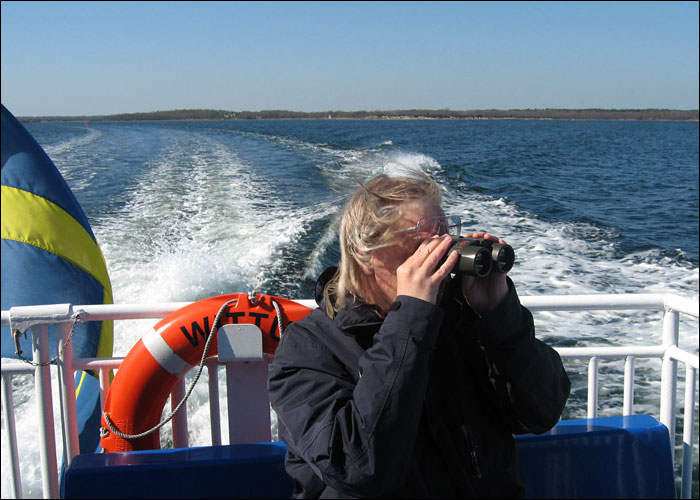 Ante scanning the sea. Long time ago...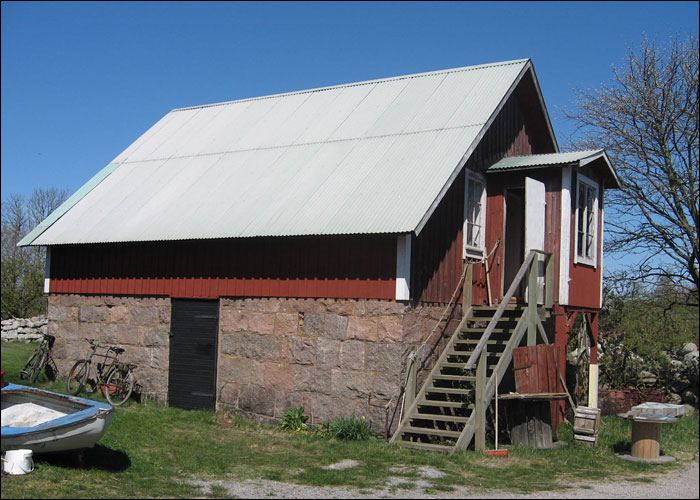 Our nice little cottage (usually named "Loftet", which is translated as The Loft). Two days after we had left the island an Alpine Accentor were discovered right here!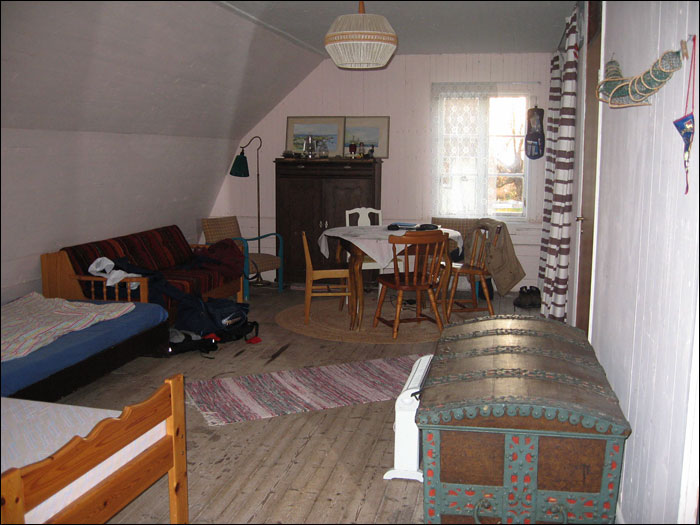 Inside the loft.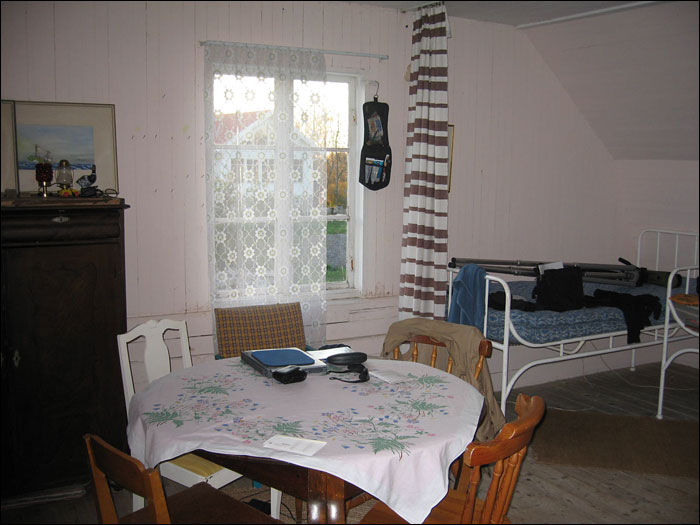 It's perfect for three to four persons and located in the northern part of the small village.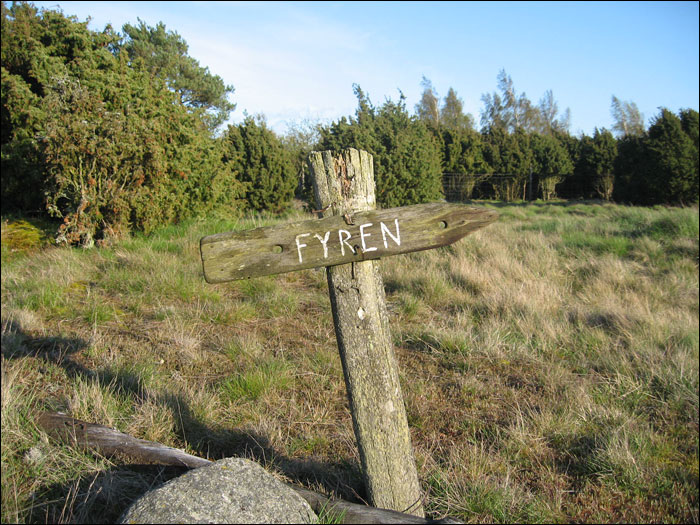 A sign pointing out the direction to the lighthouse.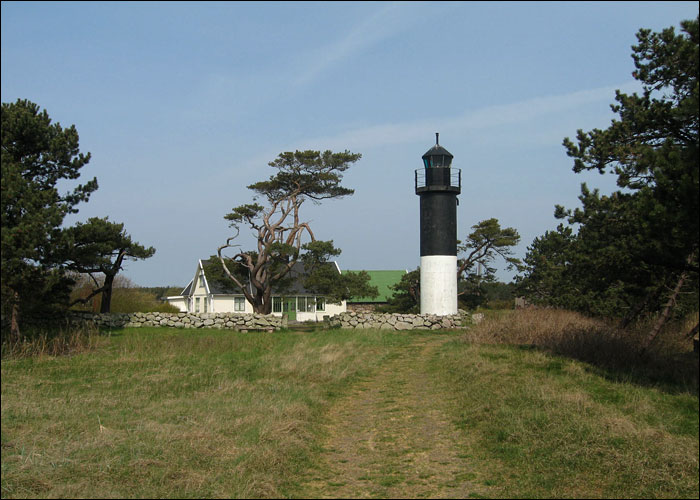 The lighthouse at the southern tip (Sydudden).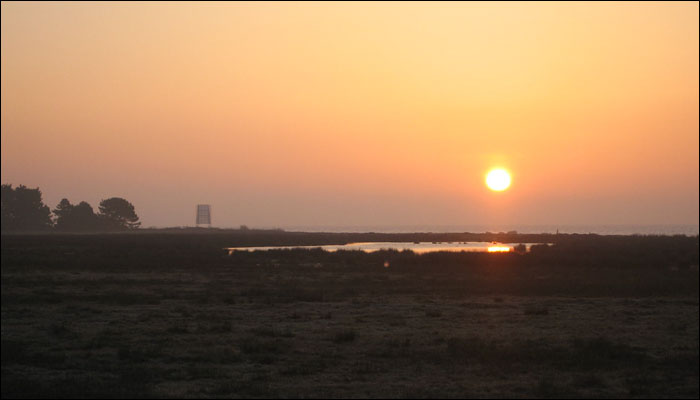 Sunrise over the south-eastern part, seen from thye lighthouse.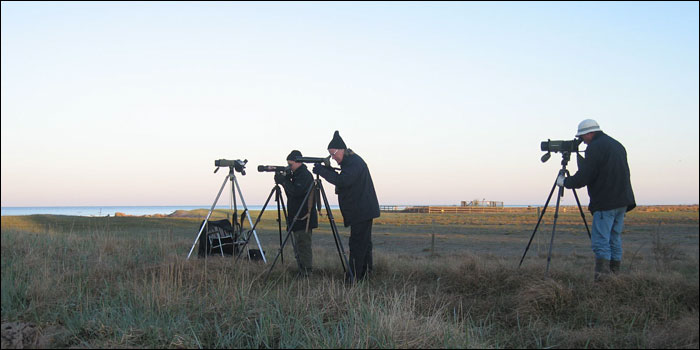 Seawatching at Sydudden (the southern tip). From left: Janne, Ante and LG (Lars-Gunnar Lundquist).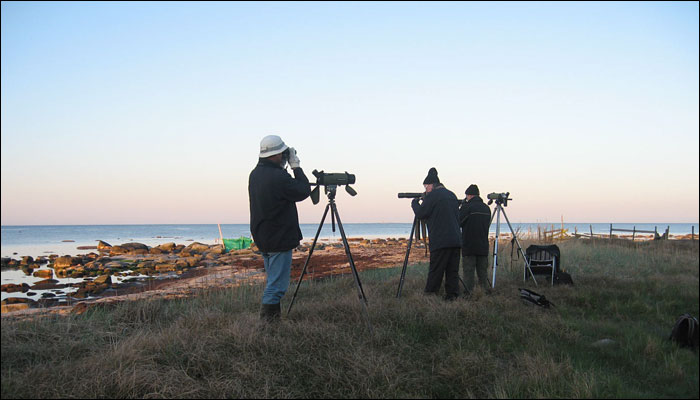 Sydudden at dawn.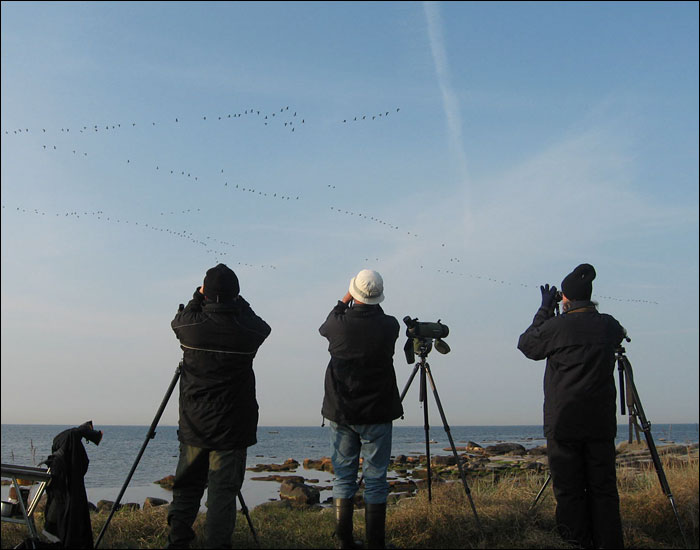 We enjoy heavy migration of Barnacle Geese. A total of 34 650 birds were recorded on 9th May!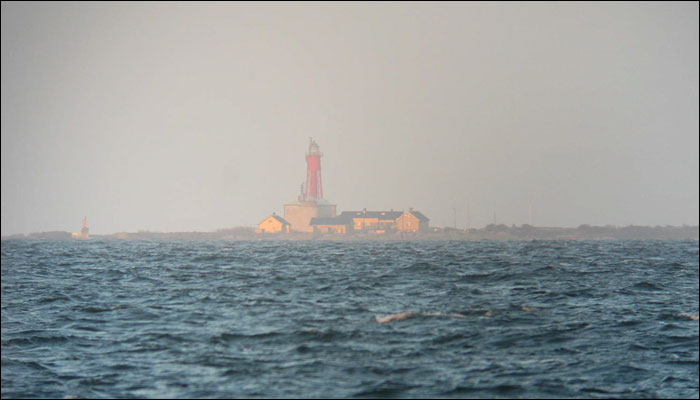 The small rocky island Utklippan, which is situated eight kilometres SSW off Utlängan. Photographed through the scope.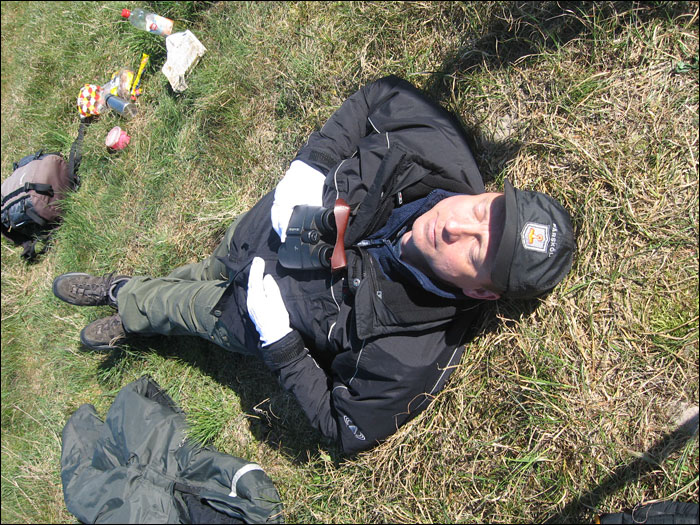 Janne taking a power nap enjoying the sun and the silence. Like in the good old days :)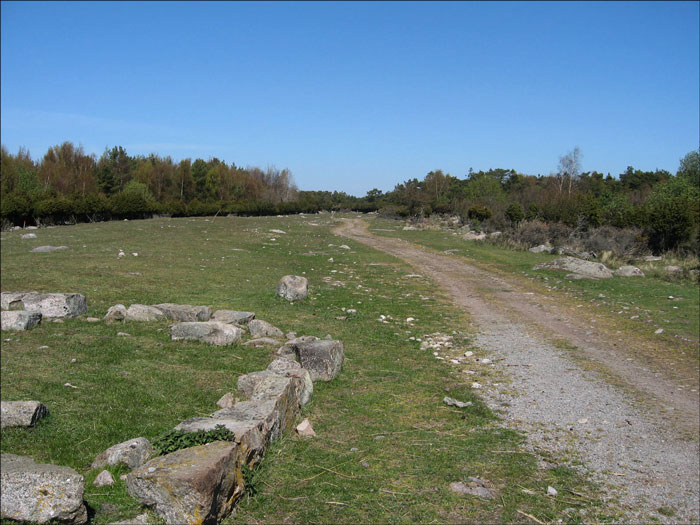 Just north of the village.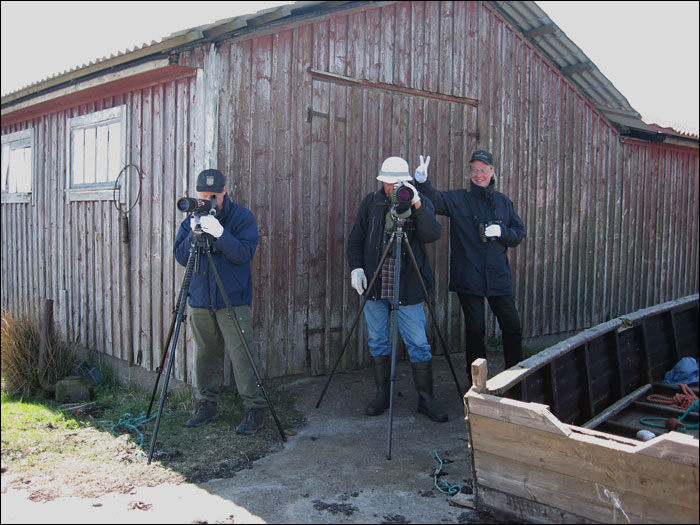 Checking the northern parts of the island from Arnold's fishing hut. Ante's little white rabbit sniffing at LG.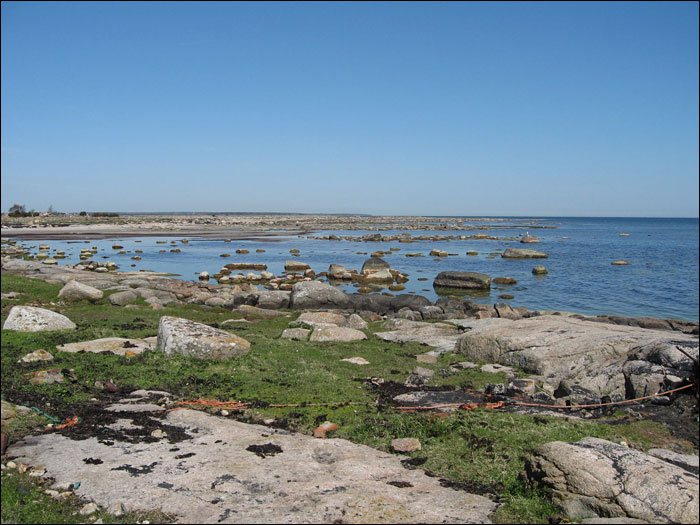 View towards the northeastern part, Saltstensudden.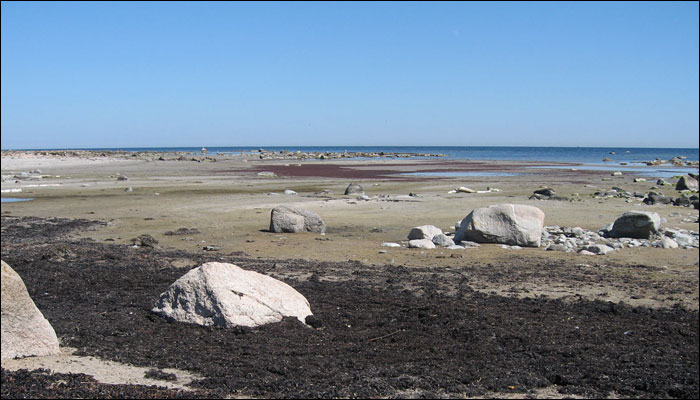 Low water and good for waders, but there was no waders at all.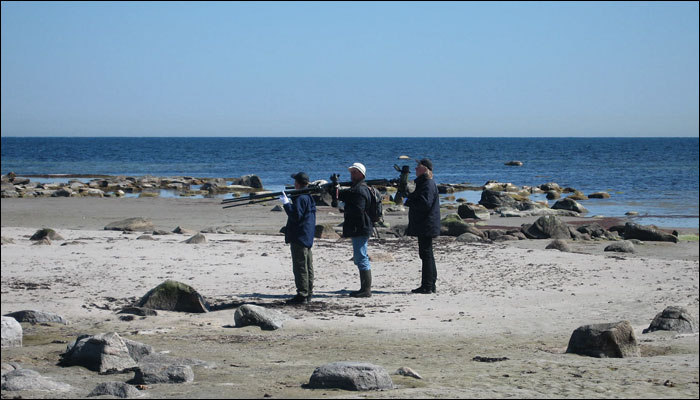 Janne, LG and Ante at the northeastern part of the island.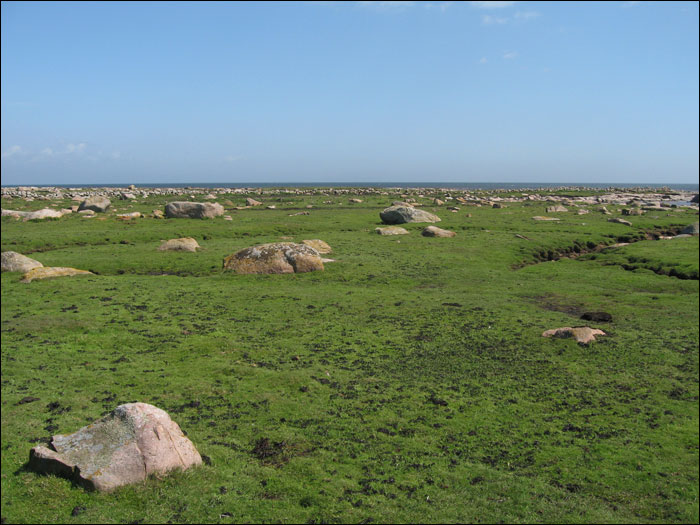 Saltstensudden.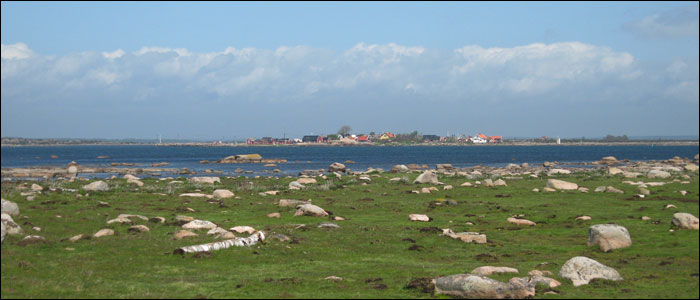 The small strait between northern Utlängan and the island Ungskär, seen in the background.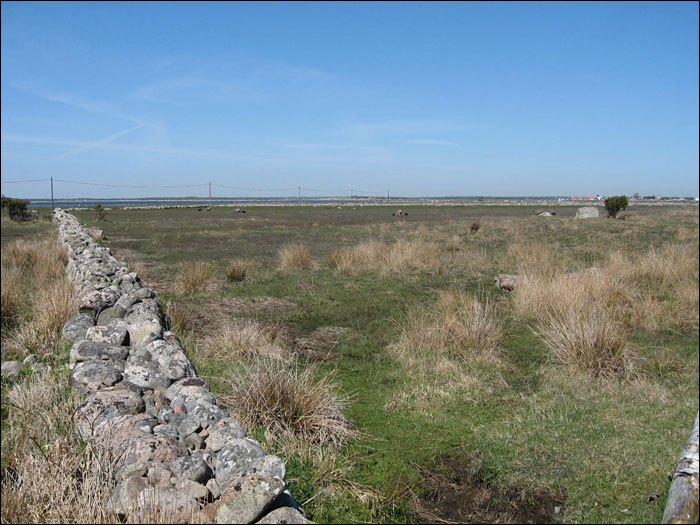 The northwestern part.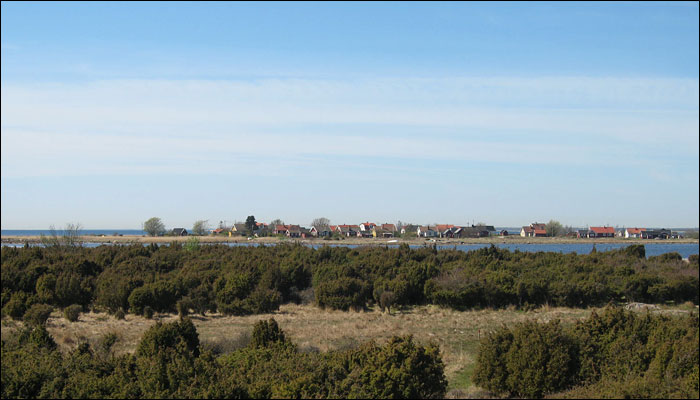 The small island Stenshamn, were the ferry lands.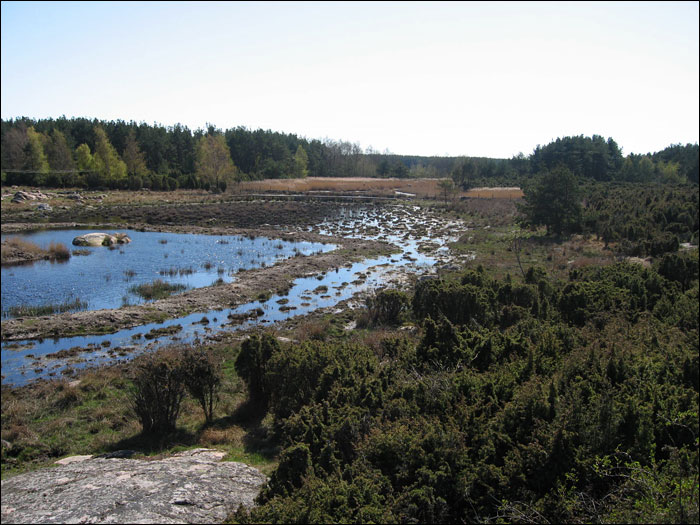 A small wetland area called Maren.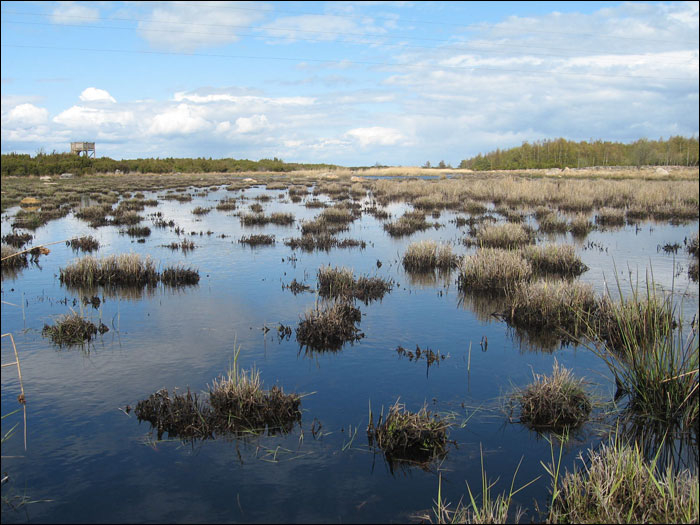 Maren seen towards north and a small birding tower to the left. However, of some reason there is seldom any birds here.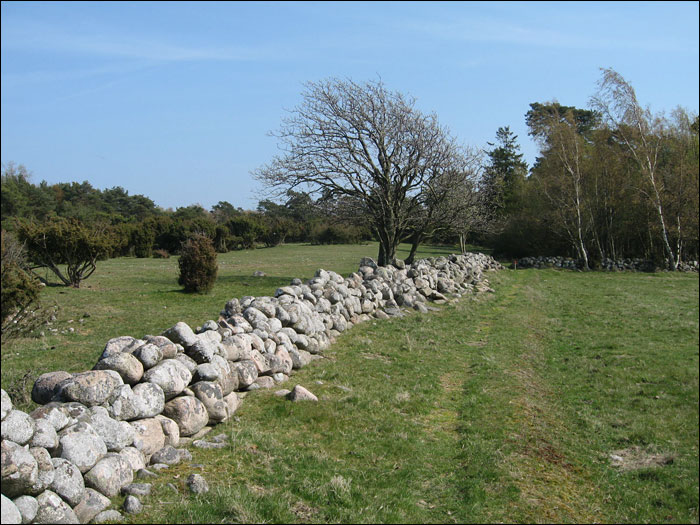 Northern part of the island.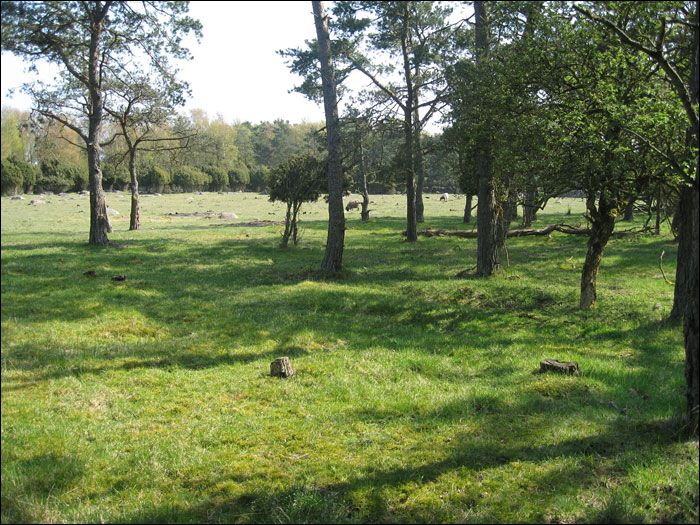 Northern part of the island, which is (as everywhere on the island) pastureland for (Gute) sheeps.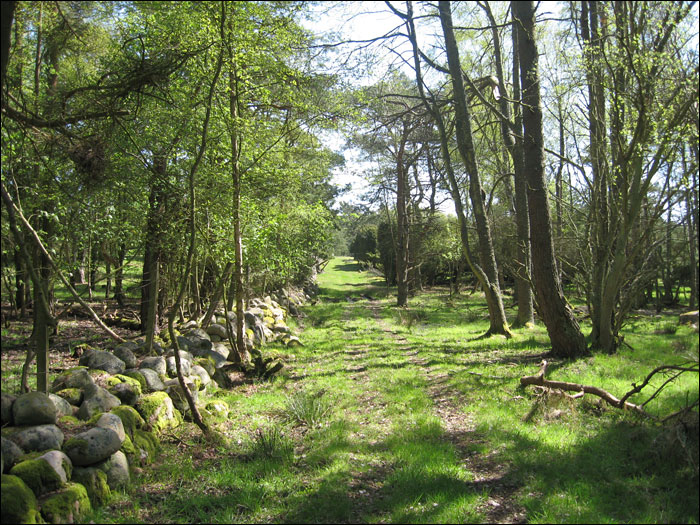 Korpdungen.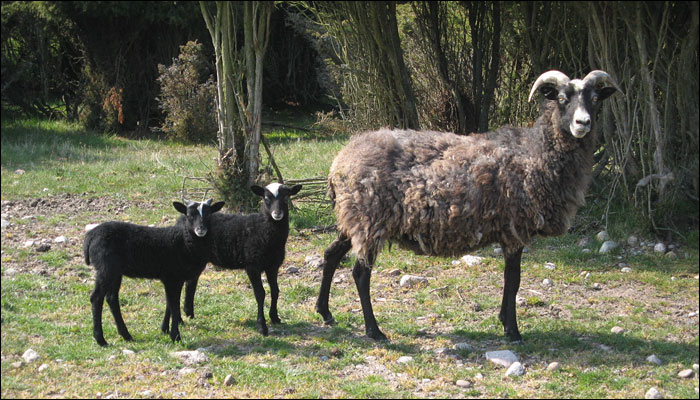 An ewe with kid. This race of sheep is named Gute, which is native to the Swedish island of Gotland.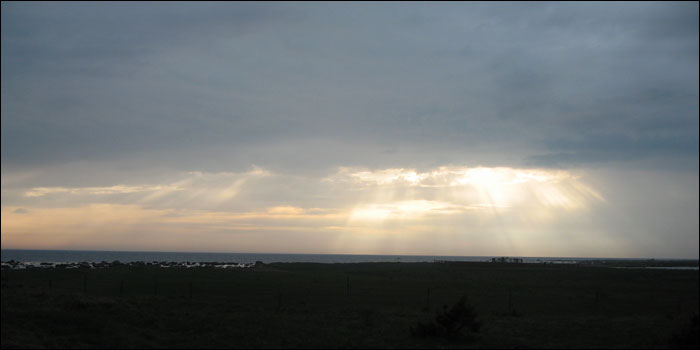 Time for contemplation!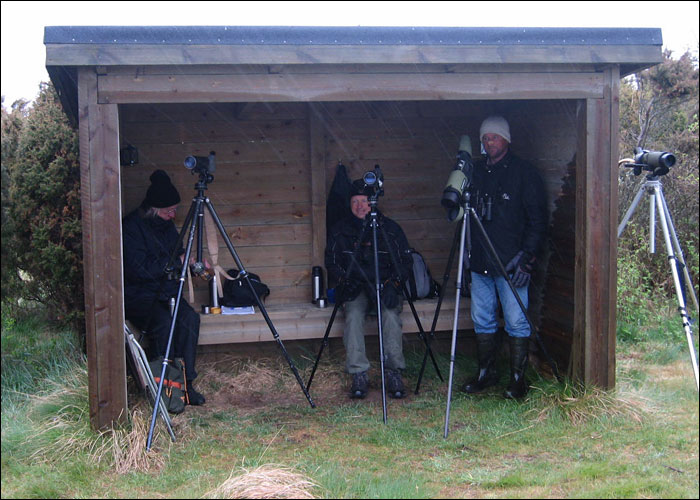 ANte, Janne and LG in shelter from heavy rain at Sydudden.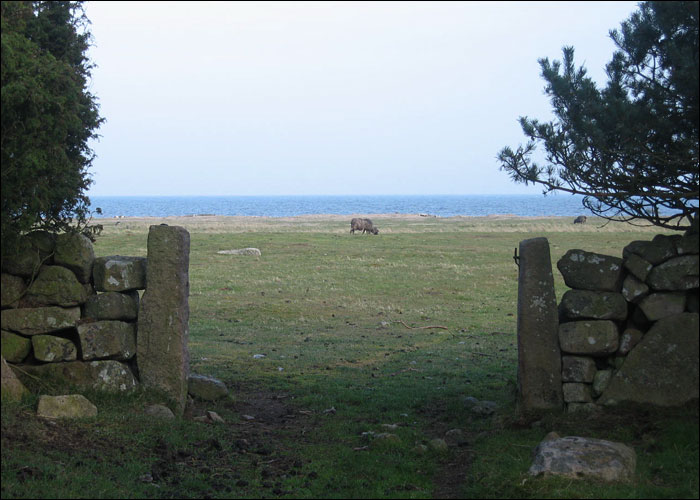 View at the southeastern part.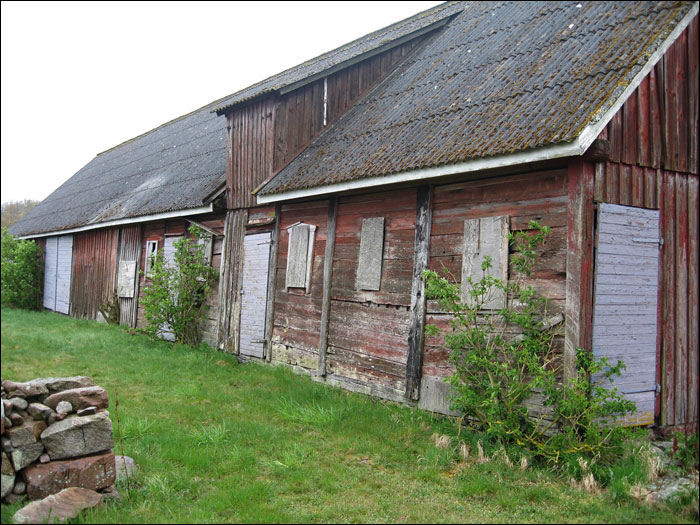 Old barn inte village.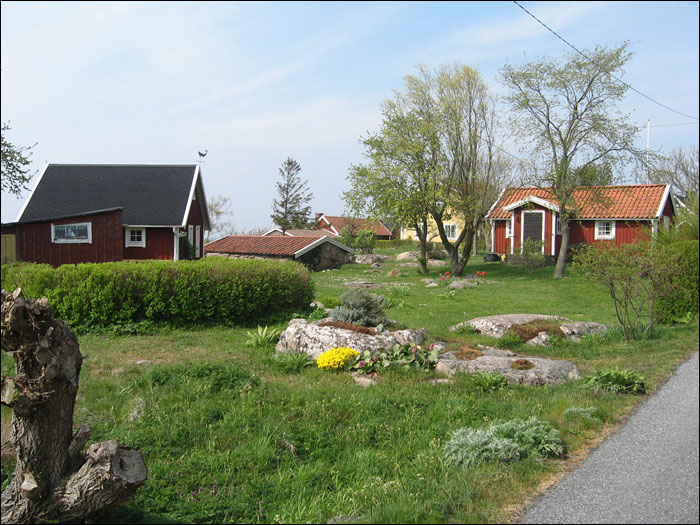 Part of the small and picturesque village Stenshamn.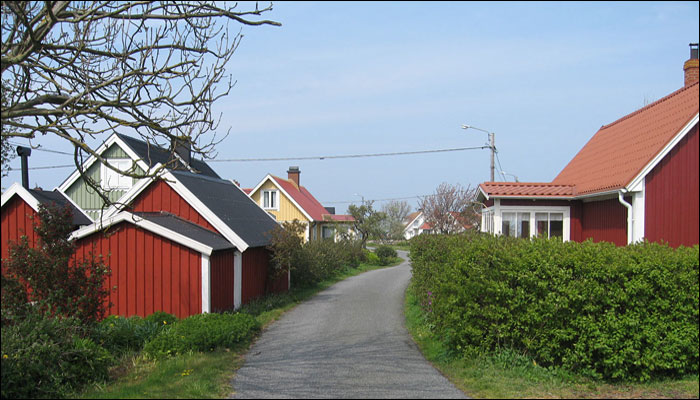 Stenshamn.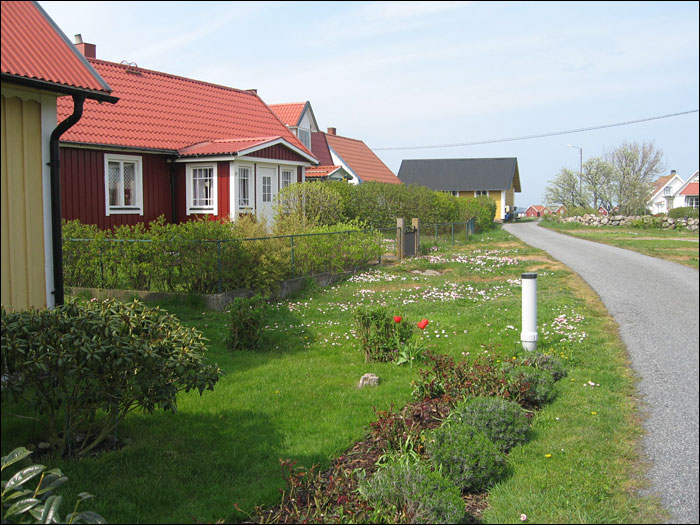 Stenshamn. Nowadays, no one lives there permanently year-round.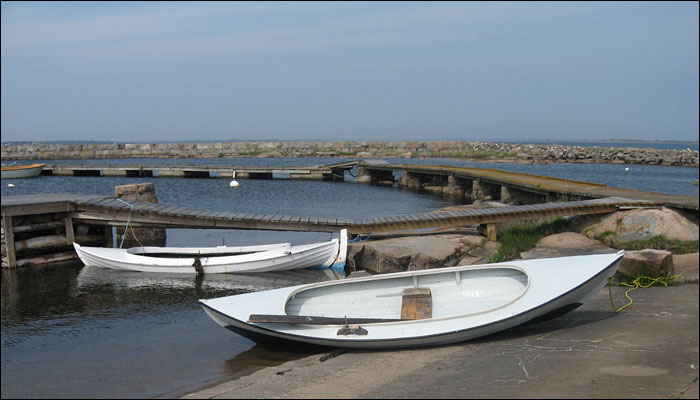 Hunting boats, the design is typical for the eastern archipelago in Blekinge.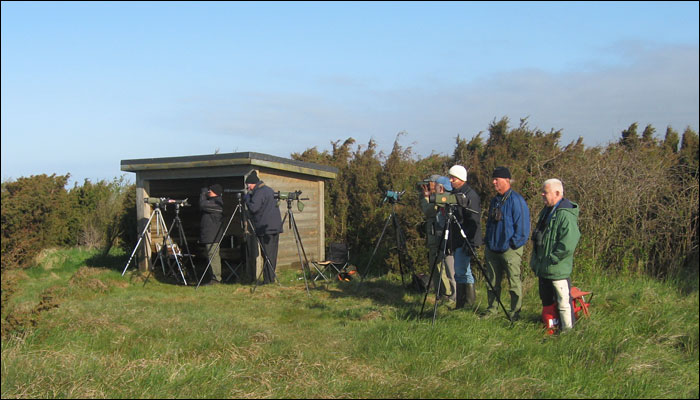 Birders at Sydudden.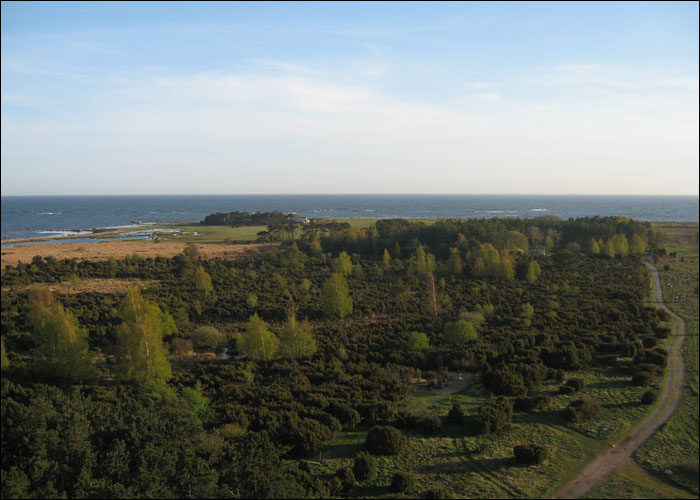 View of the southern part and Sydudden. Photographed from a very high steel-tower (once used for radarscope).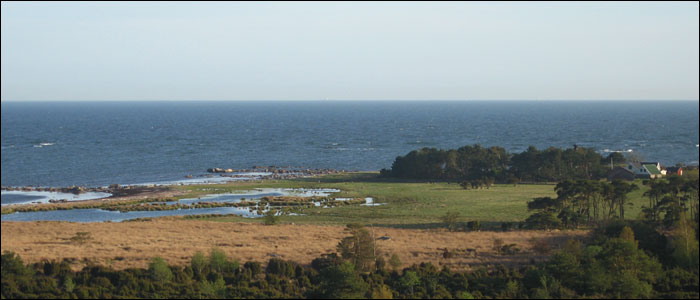 View of Sydudden.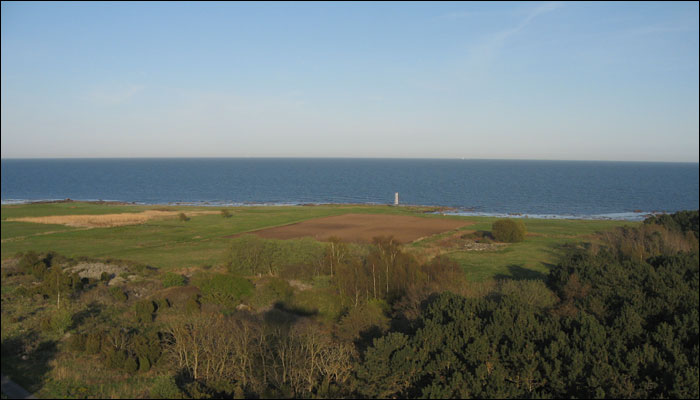 View towards east and the fields, which by birders is called the field of Arnold's.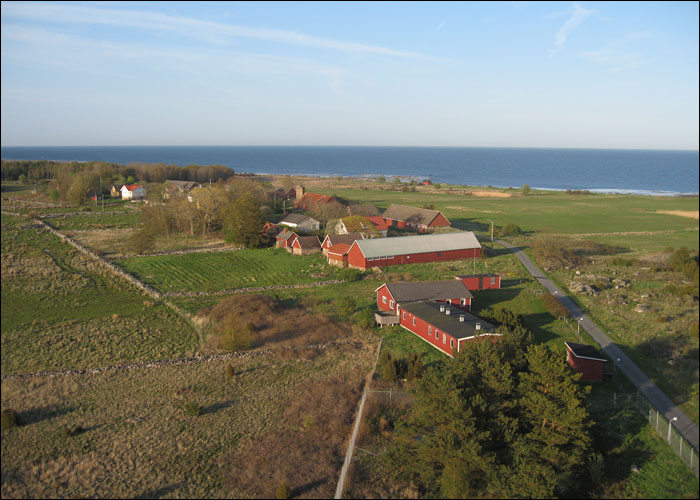 View toward north-east and the small village on Utlängan.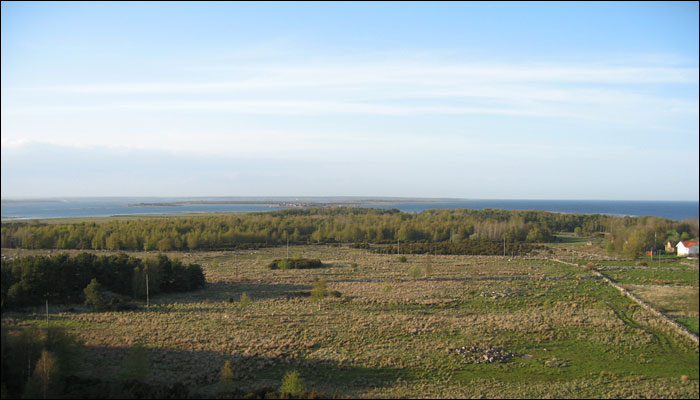 View toward north.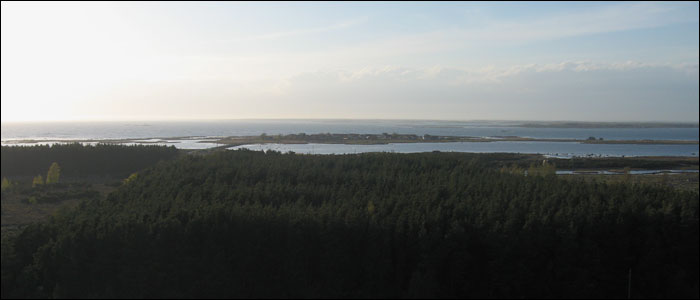 View toward west and Stenshamn.
Curiosity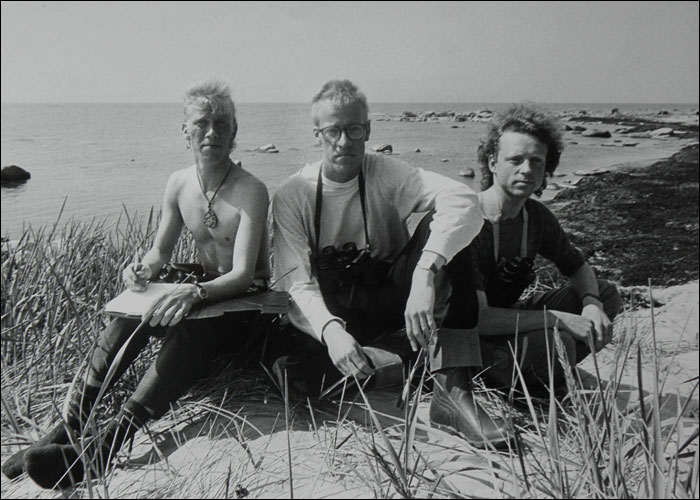 This photo was taken at Sydudden in late May 1985 for an article about our two-month stay on Utlängan. The article was published in the local newspaper "Sydöstran". Also an one hour radio programme was made and broadcasted. From left: Niklas, Ante and Janne. Photo: Thorbjörn Frennesson.