Those of you who read European birdwatching magazines or identification books based on photos (e. g. Flight Identification of European Seabirds), will sooner or later encounter Göran Ekström's name, as his photos are widely used in such publications.
Most recently, Göran has been responsible for the photographic research of the CD-ROM 'Birds of the World' (by Lars Larsson et al.), which contains more than 13 000 photos of 3600 species. The CD-ROM was recently reviewed in Birding World (3/2003 p. 130). Further information on it can be found at www.birdsoftheworld.org
Do not hesitate to contact Göran if you are looking for high quality photos. By agreement, he can provide you with low resolution digital images via e-mail or (if many) on a CD, before you order high resolution photos, which then will be provided on a CD in a format enabling printing in magazines, journals and books.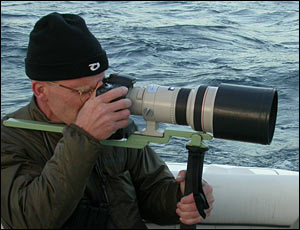 More about Göran Ekström
Born: 1956, Karlstad, Sweden.
Family: Two sons
Lives: In Väse, near Karlstad, in south Sweden.
Equipment: Digital photo enthusiast since year 2002. Canon D10, 300:2.8 + 1.4x-extender.
Favourite places: Too many to list – all around the World! Following places deserve mention: Israel (10), China (5), Morocco (3), Ethiopia (3), USA (2) and India (2).
Next trip: No trips abroad planned yet.
Email: Göran Ekström
Dan Mangsbo is a keen birder who has digiscoped for years. His excellent photos are often seen in Swedish magazines and on birding web sites. When Dan visited Senegal, Poland, Iceland, Catalonia and several other countries he both digiscoped and took pictures with a digital system camera. You are welcome to contact him if you are looking for high quality photos of a wide selection of species.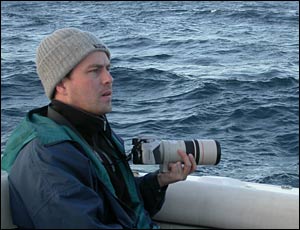 More about Dan Mangsbo
Born: 1968, Karlstad, Sweden.
Family: Mother and father + a big cat.
Lives: In Deje, near Karlstad, in south Sweden.
Equipment: Canon EOS300D with 300 mm lens. Also Nikon CoolPix 995 and Swarowski AT80HD for digiscoping.
Favourite places: Many local places, such as the archepilago of Swedens largest lake, Vänern, lake Norra Hyn, mires and boreal forests in Värmland. Further away: Swedish Lapland, Iceland and Israel.
Next trip: No trips abroad planned yet.
Email: Dan Mangsbo